Varsity Head Coach Paul Wiggins
Coach Paul Wiggins turned in his most productive season in his 8 year stint, seeing his team post a 12-1 record and become district champions for the first time (2021).
Looking back to 2014, Adam Franzen was the new AD, as we were headed into the 4th year of a 2A run and we were in need of a new head coach. Former Principal, Dan Ridder and Adam Franzen reached out to Coach Wiggins to gauge interest. Lucky for BBHS Football, he accepted the job.
He and his staff have developed this program from the ground up and have many, many awards to show for it.
Colts coaching staff includes: Joe Schuck (HC), Eric Besse, Roy Riegler, Brett Spaulding and Brett Faulkner.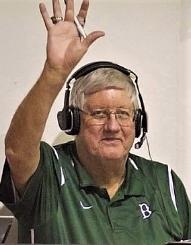 Voice of the Mustangs - Dave Schabell
Schabs is a fixture around the Mustang basketball and football programs. You'll find links to upcoming/live broadcasts on the homepage during football season and archived broadcasts are also available.  Catch Dave and his special guests when the Mustangs take the field.
During his tenure, the '65 Brossart grad has served as head coach to eleven Mustang freshmen teams. He also served a five year stint as Varsity Girls Head Coach from 1986 through 1991 where his Lady Stangs compiled a 99-45 record, including a 26-6 campaign in 1986-87 which ended in the 9th Region Semi-Finals, after winning the school's very first District Championship. Dave has served under eight Mustang head coaches dating back to Jon Quatman who hired him in 1978. 
Schabell was elected to the 10th Region Hall of Fame in the spring of 2009; was inducted into the Northern Kentucky Athletic Director's Association Hall of Fame in October, 2009; the Northern Kentucky Sports Hall of Fame in November of 2009; and was inducted into the Brossart High School Athletics Hall of Fame in March of 2016. In 2019 Dave was elected to the Northern Kentucky Coaches Association's Court of Honor. He turned 74 in June of 2021, but is still going strong.
In 2022, The Munninghoff Family bestowed the honor of naming the drive into the MAC after Schabell for his countless years of service to Bishop Brossart and this community.
Athletic Trainer Madelyn Kim
Trainer Madelyn Kim is in her second  year as the Brossart trainer, working in conjunction with St. Elizabeth Sports Medicine Health Care. She has a Bachelor of Science and a Master's degree in Athletic Training from Thomas Moore.
Maddy will be present for all Mustangs and Lady 'Stangs practices and home games, and is commissioned with the responsibility of treating our everyday aches, pains and also conducts some in-house rehab. She advises on major injuries, working in conjunction with the doctors at St. Elizabeth.
Looking for archived broadcasts?