Willie Schlarman accepted the job as head coach of the Bishop Brossart Mustangs in June of 1997. From the time he arrived he brought a new attitude and a new excitement to our program.
In Only His First Season His Mustangs Would Defeat Number One Covington Catholic, Win 28 Games, The Mason County Invitational Tournament, The 38th District Tournament, Two Games in the 10th Region Tournament.
And would finish out his first season in the Championship Game of the 10th Region Tournament with a berth in the KHSAA "Sweet Sixteen" State Tournament at stake.
In March of 2000, his Mustangs would win the 10th Region Championship and defeat Graves County in Rupp Arena in the "Sweet Sixteen" State Tournament.
Under his guidance we would win Three District Tournaments, and be Runners-Up Twice.
We went places only previously dreamt of. We played in the Cintas Center (3), the Shoemaker Center, the Owensboro Sportsceter, at NKU, Thomas More, McBrayer Arena at EKU (3), in the Adolph Rupp Classic at LexCath and we earned respectability throughout the state.
We made several trips to Florida during the summer for some basketball and bonding, where we played in the Embry-Riddle Team Camp and stayed over at Daytona Beach.
We would win the 10th Region All "A" Regional Tournament Three Times, Playing in the All "A" State Tournament on Three Occasions, finishing as State Runner-up in 2004.
He Was 10th Region "Coach of the Year" on Four Occasions and Kentucky Post and Cincinnati Enquirer "Coach of the Year" in 2000.
During his seven year tenure with the Mustangs he would compile a 141-76 record.
In May of 2004 Coach Willie Schlarman accepted the head coaching job at Highlands High School, where he is a 1983 graduate.
He gave us seven wonderful and memorable seasons and shared with his players the same incredible experiences that he himself experienced as a player in a quality program.
Join with us on a trip through the past seven seasons on the following pages and re-live once again the "Schlarman Glory Era."
Boys Basketball Vacancy Is Filled
Schlarman To Coach Brossart
Three years ago, Willie Schlarman left a high-paying job to become a high school math teacher and boys' basketball coach. He's happy he changed careers, especially after being named head basketball coach at Bishop Brossart High School.
"I'm thrilled to be doing what I'm doing now," Schlarman said.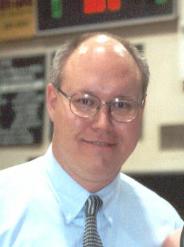 "In my old job, the rewards were in cash. In this job, it's getting the chance to work with young people and make a difference in their lives."
Schlarman, 32, succeeds Bob Seiter as head coach of the Mustangs. Seiter resigned so he could take the college courses he needed to get into high school administration. The Mustangs compiled a 82-56 record in five seasons under Seiter.
Last year's team made it to the 10th Region tournament and finished 14-14 with three underclassmen in the starting lineup. "I think I have a solid nucleus to build on," Schlarman said. "Hopefully, I can use the experience I have to help take these guys to the next level."
Schlarman was an all-region player at Highlands High School and scored more than 1,000 points during his career at Northern Kentucky University.
He was freshmen coach at Dayton in 1994-95 and junior varsity coach at Highlands the last two seasons.
He was also part of the Highlands' varsity staff that guided the Bluebirds to the championship of the Sweet Sixteen State Tournament last March.
Schlarman Has Brossart Off To A Fast Start
Willie Schlarman helped mold the Highlands boys' basketball team that's ranked Number 1 in the Northern Kentucky coaches poll.
Most of the Highlands players developed their skills on the freshman and junior varsity teams that Schlarman coached the last two seasons.
On Friday, Schlarman will be coaching against those same players when Brossart visits Highlands in the first game of the new year for both teams.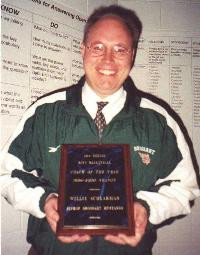 "It's going to be awfully tough to go into Highlands and play those guys," said Schlarman, who is in his first season as Brossart's head coach.
"I'm sure they're going to be fired up seeing me again so there's no chance of us sneaking up on them like we did against some of the other teams we've played."
Brossart closed out the 1997 portion of its schedule with a 54-52 home-court win over St. Henry on Tuesday.
It was the sixth straight victory for the 6-2 Mustangs, who have climbed to No. 6 in the Northern Kentucky coaches rating since upsetting No. 2 Covington Catholic and No. 10 Holmes earlier this season.
St. Henry was ranked No. 8 going into Tuesday's game.
Senior guard Nathan Seiter, the team's top player, said the Mustangs are playing a different style of basketball than they did in his first three seasons as a varsity starter.
"We're a lot more disciplined," he said. "In our first two games, we took way too many three-point shots. But we settled down after that an started running our offense and doing what coach wants."
Seiter, who sat out most of last season with a broken right ankle, has emerged as one of the leading scorers in the area once again.
In the Mustangs' first seven games, the 5-foot-10 guard averaged 20.5 points. He also contributed 3.4 assists, 4.4 rebounds and 2.1 steals, while making only 11 turnovers.
"During the summer, I tried to convince Nathan that the best thing he could do for this team was make the people around him better," Schlarman said.
"He bought into that idea and he's getting better at it in every game. Now the other guys on the team don't stand and watch Nathan. They're going out and trying to play with him."
Junior point guard Curtis Bezold and junior forward Nick Moher are the team's other double-figure scorers. The other starters are senior guard Chris Hagedorn and sophomore guard Justin Seiter, who is Nathan's younger brother.
With that lineup leading the way, Brossart shot 48 percent from the field and averaged 70 points in its first seven games.
"All five of our starters are playing well," Nathan Seiter said. "We went with an extra guard instead of a second forward to give us a little more quickness."
Since Moher is the only starter taller than 6 feet, the Mustangs must shoot well and play aggressive defense to offset an opponent's height advantage.
"When we shoot the ball well, this team is really fun to be around." Schlarman said. "On nights when we don't shoot well, we have to scratch and claw to get a win."
If the Mustangs have trouble putting the ball in the basket during Friday night's game at Highlands, they could be in for long night against the bigger, stronger Bluebirds, who are off to a 7-2 start.
"To give ourselves the best opportunity to win, we'll have to come out and shoot well," Schlarman said. "But they play good defense and don't allow you good looks at the basket so it'll be tough to create offense."
The Mustangs are still looking forward to their first game against Highlands since a 74-70 loss in the 1994 district tournament.
"We're having more fun this year because we hav3 a harder schedule," Nathan Seiter said. "I'm sure we have a chance to do something big just by the way the team is jelling."