Bishop Brossart has had some premier athletes over the years. Of course, they couldn't have done it without their teammates, coaches and parents.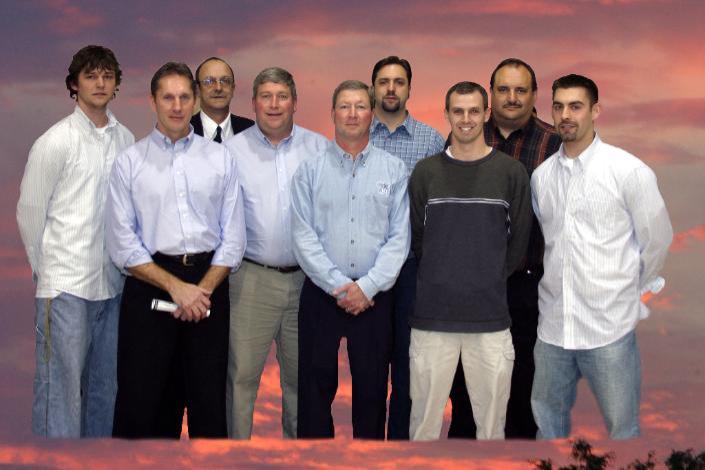 Members of the Brossart Mustangs 1,000 Point Club Assembled For Evan McDole's Induction On Thursday Night, January 13th, 2005. They are (L to R) Chris Ryan, Dave Farwick, Melvin Steffen, Mark Curthrell, Greg Schwegmann, Kevin Steffen, Rodney Sendelbach, Brian Ficker, and Justin Seiter. Absent – Tom Saelinger and Nick Moher. Deceased – Nathan Seiter
The progression of the St. Mary/Bishop Brossart Mustangs from 1954 through the present.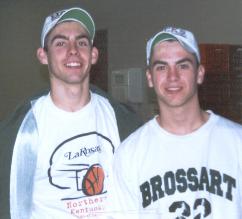 Brothers Justin (on left) and Nathan Seiter are the most prolific brother scoring tandem in the history of Brossart High School. The duo amassed 2903 points between them during their careers despite each sitting out a substantial portion of their Junior seasons with injuries each sustained on Green-White "Meet The Team Night." Both played in 10th Region Championship Games as Seniors. The brother combination of Nathan, Justin, and Brad have combined to score 3,274 points for the Mustangs in their careers.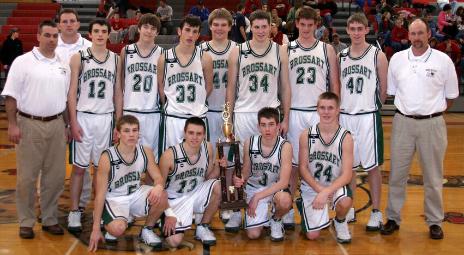 The 2004-05 Junior Varsity Mustangs ran the table on all comers and finished the season with an unblemished 23-0 record. This follows back-to -back 20-3 JV seasons. They were undefeated NKAC Divsion II Champions MCIT Champs For the Third Year and 38th District Champs for second time. They defeated CovCath in 2OT, Elder in The Pit, Cincinnati Oak Hills, McNicholas, and Lexington Catholic enroute to their undefeated season.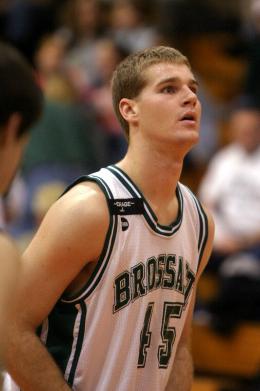 Evan McDole is the first four year player in Mustang history to play every game of his Brossart Mustang career in varsity games. He holds the school record for starting 111 games in his career. He has the distinct honor of playing his first high school game as a varsity starter. Even past Mustang greats Nathan and Justin Seiter, Melvin Steffen, Greg Schwegmann and many others all participated in Junior Varsity competition prior to becoming strictly varsity players. McDole was the Mustangs leading rebounder in each of his four seasons. As if that is not enough, Evan is a First Honor student in the classroom where he never missed a day in his high school career. He also started on the varsity baseball team where he was their leading hitter with a whopping .489 batting average. Evan signed a four-year full-ride scholarship to play baseball at NKU.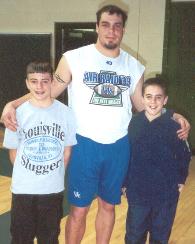 Former University of Kentucky Wide Receiver Derek Smith played basketball for Coach Willie Schlarman during his freshmen and sophomore years at Highlands High School. During his sophomore year he, Coach Schlarman, and the Bluebirds played in the Championship game of the State Tournament. Smith made return visits to the Big Dance as a Junior and a Senior as well under Coach John Messmer and present Mustang head coach Mike Code. Derek is pictured here at Brossart High School with former Mustangs Adam Franzen on the left and Brad Seiter on the right.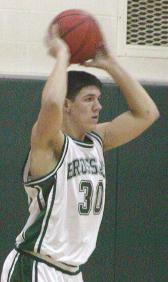 Michael Schenk holds the distinction of being the All-Time Leading Scorer in Brossart History at the Junior Varsity Level scoring 643 points in three seasons, 2001 through 2004. During that period the JV Mustangs accumulated a 51-18 record, while going 40-6 during his sophomore and junior seasons. Combined with the 326 points he scored on the Freshmen Team in 2001-02 and the 55 scored in varsity competition, Michael has amassed over 1,000 points (1024) in his three seasons as a Mustang. While it is an unkept statistic, Nathan Seiter is known to be the only other Mustang to have produced 1,000 points combined at any level during his freshman-sophomore-junior seasons. Troy Cooper has since accomplished the feat in his sophomore season and has a total of over 1,500 points through his junior year.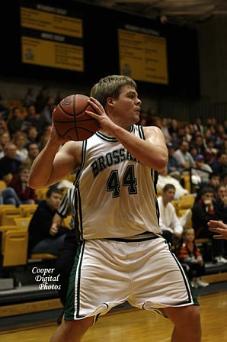 Troy Cooper accomplished the feat of scoring 1,000 combined points on the Freshmen, JV, and Varsity levels while still a sophomore. He scored a total of 1524 points through his juinior season, and 2,099 points for his career. Troy scored 197 points for the Freshmen team in 2002-03 as an eighth grader playing on the Freshmen Team. He came back to lead the 24-2 Freshmen team in 2003-04 with 444 points as a freshmen, where he also contributed 108 points while playing with the 20-3 Junior Varsity Team. In his sophomore year he scored 274 points with the 23-0 JV team and 56 points with the varsity squad. During his junior season he scored 446 for the Varsity Mustangs. Troy finished his high school career with 2,099 total points for the Mustangs. Troy is the ONLY player in Mustang history to accomplish this feat. Troy holds official school records established as Varsity Soccer Goal-Keeper and in Track for the Shot Put.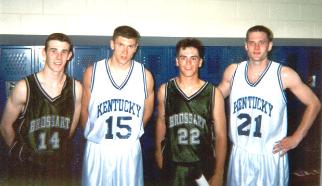 In the spring of 1998 Brossart Mustangs Chris Hagedorn (#14) and Nathan Seiter (#22) had the privilege of playing against then National Champion University of Kentucky seniors Cameron Mills and Jeff Shepherd.