Jacob Leicht Tabbed Preseason Player of the Year. Govan, Martin, Sayers Among Top Ten Players to Watch
The Football rendition of Cats Pause has tabbed Brossart to be the top preseason pick in District 5 of Class 1A. Their choice is based largely on the prowess of third year Mustang quarterback Jacob Leicht, and a total of seven returning starters who played into the 2020 District Championship game versus Nicholas County, before having the carpet pulled out from under them in an eleventh hour Covid precaution.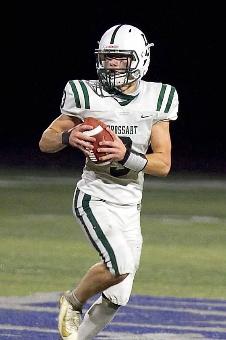 While returning seven starters, this team also took a big hit to graduation, that saw career leading touchdown scorer – Trevor Schadler and offensive flash – Carson Schirmer, along with defensive mainstays – Cody Orth, Devon McCormick, and Ryan Twehues walk down the aisle, as did punter Eli Thompson and wide receiver Jacob Kremer. These will be big shoes to fill. The Cats Pause tabloid tabbed Jed Martin, Thomas Sayers, and David Govan among the Top Ten players in the district "to watch." Our old nemesis, Nicholas County is picked right behind us, with Bracken County and Paris holding down the Numbers 3 and 4 spots. We will certainly have a better handle on our situation within the district, when district play begins on October 1st. By then we will have had six "prelim" games under our belt.
Coach Paul Wiggins was quoted as saying, "While we lost a lot of our experience from last year, we should benefit well from senior leadership from our returning starters. On defense we return seven starters that have a couple of years experience on the varsity level. Overall this year, we believe we will be a solid team that weill be able to contend in our district. Without knowing which players our district opponents will bring back, I think we have a good shot at a successful season. Our experience and leadership will be the focal point on how well we perform this year."
Jacob Leicht (above) will be in his third year as our starting quarterback. He threw for 536 passing yards and eight touchdowns last season, and he rushed for 726 yards and eight touchdowns. Mason Meyer and David Govan are our leading returning receivers with 114 yards, two touchdowns, and 100 yards and three touchdowns respectively. Jed Martin rushed for 66 yards and one touchdown.
Our top returning tacklers are Eli Twehues with 50 tackles and Jed Martin (left) with 32 tackles. David Govan (right) is another defensive force. He had six tackles for lost yardage and 2.5 sacks a year ago. The Mustangs will perform for the public on Friday night, August 6th at 6:30pm at the MAC. See the flyer below. If possible, I will put together a voice over for the NFHS broadcast, if there is one of that event, which is yet to be determined.
Opening night is Friday, August 20th at home vs an upstart Dayton Greendevils football team. The full schedule is on the Happenings Page.