Living My Dream To Wear Mustang Green
For as long as Sophomore Luke Rebholz can remember he has always had a burning desire to someday play in the winning Brossart Mustangs basketball program. As a gradeschooler he can remember making the trip to the Mason County Fieldhouse to watch the Mustangs play in Regional Tournaments past and was at Rupp when the Mustangs beat Graves County and took on Russellville. Being small of stature, playing on an obscure team without a winning record, and joining a class laden with talent from Diocesan Champ and Diocesan Runner-Up St. Joe, Cold Spring and St. Mary often caused Luke to be concerned that he might be lost in the shuffle at his new high school and never get to realize that dream.
To Luke Rebholz, compared to Sts. Peter and Paul, Brossart High School was a big school and to realize his dream of playing in a winning program Luke knew that he would have to outwork his potential teammates in order to land a spot on the freshmen squad. During the summer prior to his coming to Brossart Luke made a commitment to attend every open gym possible and learn as much as possible from the guys he was playing with. Brad Seiter and Adam Franzen, two guys from Sts. Peter and Paul who were a year ahead of him became his mentors. Shortly after October 15th of 2003 Luke Rebholz realized his dream and was awarded a coveted Brossart Mustang uniform. High school has been good to Luke. He quickly demonstrated the work ethic shown on the hardwood in the classroom and has become one of the top five students in his class. He is a member of the Brossart Academic Team. In the spring he runs track, and during the summer, along with a brother runs an actual bee-keeping business, selling fresh honey to a limited number of repeat customers. He enjoys family vacations and his favorite destination is the Grand Canyon.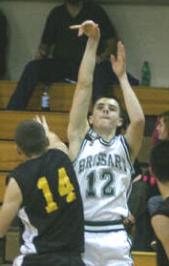 Luke's dream of being a part of a winning program was quickly realized as the 2003-04 Mustang Freshmen posted a 24-2 record, winning the 38th District Tournament and the 10th Region Championship. While Luke wasn't a starter or even one of the leading scorers on the team, he willingly accepted his role, continued to listen to his coaches and worked relentlessly on improving his game. He earned the respect of the Mustangs coaching staff and over the summer was invited to attend the Embry-Riddle Team Camp in Daytona Beach, Florida with this year's Junior Varsity Mustangs. While there they ran the table, going undefeated in the camp games and sweeping the Camp Tournament, compiling a 10-0 record for their stay in Florida. Rebholz competed and contributed in each contest.
So far this season Luke is enjoying the success of the Junior Varsity team, which is 14-0 after beating undefeated Pendleton County on Tuesday night. He has competed in thirteen of those games and has put 28 points on the board, including a key three-pointer Tuesday night against the Wildcats. In Luke's two years at Brossart High School, his Mustang teams are a combined 38-2. Luke has had the privilege of dressing with the varsity at times this season and will always remember being suited up for the Mustangs win over Oak Hills in the Cintas Center as well as actually playing in the Fifth-Third Bank Classic at LexCath over the Christmas holidays where he competed with the varsity in the Mustangs 71-44 win over Clay County. As Luke has continued to grow and mature, he is becoming a force in the paint and a contributing rebounder.
After two full years of preparation, Luke is looking forward to next year where he will likely become a starter on the 05-06 Mustangs Junior Varsity team and take what comes his way in varsity competition.
Luke cites the close comaradarie with his teammates, the concern of the coaches for our players, the many friends made, and the incredible athletic and academic opportunities that have been opened to him as being the most rewarding aspects of his career to date at Brossart High School. The hard work and dedication demonstrated daily at practice against our varsity Mustangs pays off on game nights when the Mustangs take the floor before large crowds and experience success on a regular basis.
Luke Rebholz is what we call a Brossart kind of kid. Polite, appreciative, hard-working, and over-achieving are just some of the descriptions you will hear spoken of him. He is one of the success stories in our program and we are proud of his achievements and glad to have him wearing that Mustang uniform.
"Nobody Thinks We Are As Good As We Are" – Luke Rebholz
Luke should serve as an inspiration to all young players with a dream that with hard work, dedication and commitment to a goal, they too someday might realize their own dream of wearing Mustang Green.