Prolific Backcourt Duo Hold Eight Individual School Records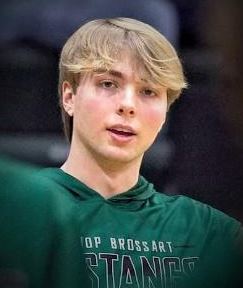 Stephen Verst burst upon the Brossart basketball scene back in 2010, where as a second grader, he began winning individual "Camp Champ" titles, and earned a total of 18 of them by the time he became a Freshman Mustang.
We watched Carson Schirmer play his grade school career at St. Joseph, Cold Spring and awaited the day when he and Verst, then grade school rivals, would team up in Mustang green.
Schirmer had brothers Michael and Austin precede him as Brossart basketballers. Stephen has left us a younger brother, Robbie, to carry on his legacy. Together, despite somewhat star-crossed careers the two would manage to set eight individual school records, and Schirmer would become the 19th Player in Brossart history to join our 1,000 Points Club.
Both Carson and Stephen experienced setbacks in their careers. Schirmer missed the first nine games of the Covid delayed 2020-21 season after sustaining a badly broken wrist in a football game back on October 30th, 2020, which had only healed to 65% when he returned to the hardwood for the final fifteen games of the basketball season. Stephen Verst sustained a damaged elbow prior to his sophomore season, that required two screws to hold in place. This injury limited his offensive output that year, and along with a re-injured broken elbow that caused him to miss the final nine games of his senior season, deprived Stephen of a spot among our elite 1,000 points scorers. Verst still managed to score 830 career points, and set three school records. Both Schirmer and Verst scored double-figures in all fifteen games they each played during the 2020-21 season. Together they combined for 33 consecutive double-figure outings. Arguably, the most dynamic backcourt duo since Nathan Seiter and Curt Bezold in '98 and the Junkyard Dogs in '00.
During their careers Carson played in 104 varsity games and Verst 92, contributing to 72 Mustang victories. Verst started off his high school career by scoring 29 points in a Freshman game at Newport, and completed his high school career by dropping a career-high 32 points on Pendleton County in the game that ended his career. On March 2, 2021, in a 86-77 win over Covington Holy Cross, Carson Schirmer, who I had nicknamed "The Howitzer" on internet broadcasts, scored 45 points, usurping the old school record of 43, held since 1970 by Greg Schwegmann, and hit on 20 of 23 free-throws, taking down a school record that had been held by Ralph Kroger since back in 1981 with 18 –  records that had stood for a combined 91 years.   Carson had previously set the Career Free-Throw Makes School Record before completing his junior season, which he now holds that stands at 413, and also the all-time Free-Throw Attempts record which is now 574. Both over 100 each of the previous record.  He is also the school's steals leader with 199. Not to be outdone, Verst has left his mark on the program by setting records for Top Free-Throw Percentage in a Season – 83.5%, and Best Free-Throw Average in a Career at 81.4%. Stephen set a school standard for best 3-Point Percentage in a game by hitting 6 of 8 against Frankfort in the All "A" State at EKU as a junior in January of 2020.  Included in his 83.5% Free-Throw record for a season is a string of 29 consecutive successful charity tosses.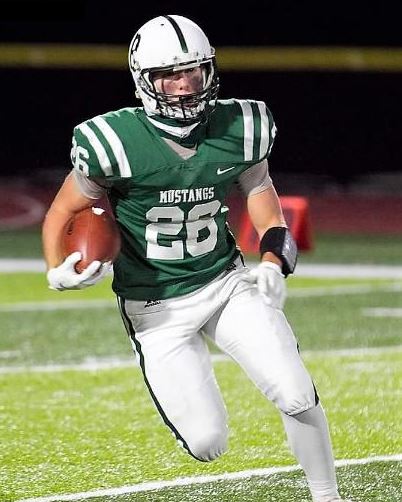 Due to the Covid pandemic which didn't allow our basketball team to conduct off-season workouts, Schirmer tried his hand at football. Joining the team late and playing in only six games, he scored five touchdowns, and intercepted the pass that clinched the district top-seed. For his efforts he was named All-Conference and All-District.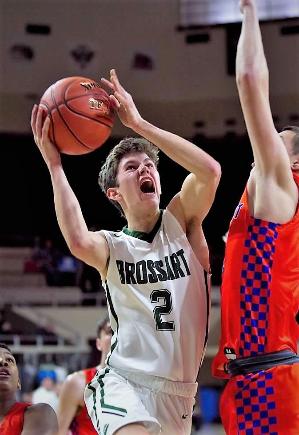 Stephen Verst would grow to fill out that Freshman uniform, expanding from 5'9″ – 120 pounds to his senior year dimensions of 6'2″ – 165 pounds.
 Schirmer added an inch and 20 pounds. Schirmer was never afraid to mix it up. He played with reckless abandon and a total disregard for his health and well-being.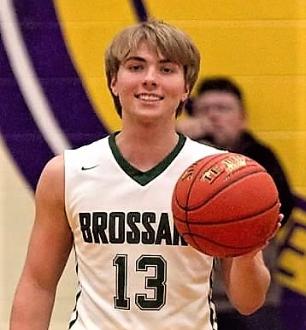 During their careers Stephen (41) and Carson (37) took a combined 78 charges. Schirmer is third only to Nathan Seiter (416) and Curtis Bezold (357) in doling out 301 career assists. He is the school's career steals leader with 199.
As pictured to the left, Carson's fans wave signs acknowledging his scoring his 1,000th point. He is also shown posing with the game ball among his teammates. At left, Stephen and Carson are shown with Ethan Eilerman, a 1,000 Points Club member, who graduated in 2020. The trio led the 2019-20 Mustangs to a 25-7 record, where they won the Crosstown Classic, the Henry County Holiday Tournament, and the 10th Region All "A" Classic. During that season, Eilerman was named 10th Region – All Region – First Team, and Stephen and Carson were 10th Region – All-Region Honorable Mention.
Amazingly, Verst was that team's leading rebounder. Evan Dennison, the beat writer for the Maysville-Ledger Independent called Stephen, "the best rebounding guard in the 10th Region."
Sophomore Year
Grant County Tournament – Player of Game
Crosstown Classic – MVP
Junior Year
Crosstown Classic – MVP
10th Region All "A" – All-Tournament
37th All-District Tournament Team
10th Region Tournament – All Tournament
10th Region All-Region – Honorable Mention
Tri-State Health/Cincy.com – Player of Week
ENKY All-Stars – Honorable Mention
Mitch Orth – Mr. Hustle
Senior Year
37th District – All-Tournament Team
10th Region – All-Region – 3rd Team
NKBBCA/NKAC D-II – All-Star
1st Honors student in the classroom.
Sophomore Year
10th Region All "A" – All Tournament
Junior Year
10th Region All-Region – Honorable Mention
10th Region All "A" – All-Tournament
Led The Team in Five Categories
Senior Year
10th Region – All – Region – 2nd Team
Crosstown Classic – MVP
NKBBCA/NKAC D-II – All-Star
NKBBCA/NKAC D-II – All – Academic
MercyHealth/Cincy.com – Player of Week
Stephen was a perennial 1st-Honors Student
Attended Ky. Governor's Scholars – 2020
Carson's Year-by-Year Stats

Stevens Year-by-Year Stats

Carson Schirmer presently holds five school records:
20-21 – Most Points Scored In A Game – 45 – March 2, 2001 vs Holy Cross
20-21 – Most Free-Three Throws in a Game – 20 (20 of 23) – March 2, 2001 vs Holy Cross
17-21 – Most Free-Throws Made In A Career – 413
17-21 – Most Free-Throw Attempts In A Career – 574
17-21 – Most Steals In A Career – 199
Stephen Verst presently holds three school records:
20-21 – Best Free-throw Shooting Percentage In A Season – 83.5%
17-21 – Best Free-Throw Shooting Percentage in a Career – 81.4
20 – Highest 3-Point Percentage in a Single Game – 6 of 8 – 75% – 1-23-20 vs Frankfort
These two were so much fun to watch.
Even if you were lucky enough to witness it in person, do yourself a favor and watch the highlight videos below!