Coach Willie Schlarman served seven years, from 1997-2004, as the head coach of the Bishop Brossart Mustangs. His record at Brossart High School was 141 wins versus 76 losses making him the winningest coach in school history. His 1997-98 team holds the school record for most victories in a season with 28 and most consecutive wins at 12. His 2002-03 and 2003-04 Teams are tied for second best all-time with 23 wins each. His 2003-04 squad holds the higest winning percentage in school history at 79.3%.
During his tenure the Mustangs were 10th Region Champions in 2000 when they defeated Mason County 52-50 in the championship game. We went on to defeat Graves County 47-40 in our first appearance ever in the "Sweet Sixteen" State Tournament in Rupp Arena and finished in the "Elite Eight" after losing to Russellville in the State Quarterfinals.
In 2001 the Mustangs were 10 Region All "A" Champions, defeating Silver Grove who came into the championship game undefeated at 17-0, leading to an appearance in the All "A" State Tournament at Eastern Kentucky University, where we were narrowly defeated by Allen-Central 48-46. The Mustangs also advanced to the 10th Region Tournament where they were forced to come from 17 behind to Paris to advance to the semi-finals where we lost to the Mason County Royals.
The Mustangs repeated their 10th Region All "A" Championship again in 2003-04 and advanced to the championship game of the All "A" State Tournament at EKU in Richmond where they were defeated by Hazard 43-38.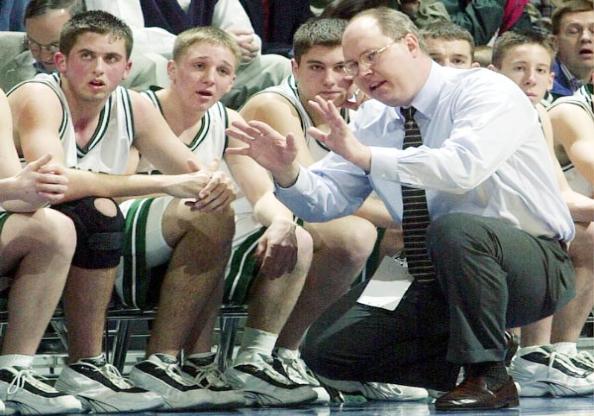 Here, coach Willie Schlarman directs the 2000 mustangs in the state tournament in Rupp Arena. The mustangs defeated Graves County, 47-40, in their first appearance ever.
Under Coach Schlarman the Mustangs were 38th District Champions in 1998, 2000, and 2003 and District Runners-up in 2001 and 2002. They played in the 10th Regional Tournament in 1998, 2000, 2001, 2002 and 2003.
Coach Schlarman has been named Class "A" Coach of the Year on three occasions, 2001, 2003, and 2004. He was 10th Region Coach of the Year and Northern Kentucky Coach of the Year in 2000.
Prior to Coach Schlarman's arrival at Brossart, the mustangs had never won a game in post-season regional tournament competition. Under coach Schlarman we were 7-4.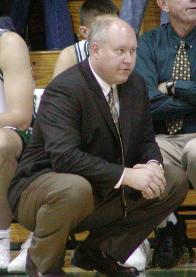 Coach Schlarman is a 1983 graduate of Highlands High School, where he played varsity basketball under Ken Shields. He played on two 9th Region Championship teams there in 1982 and 1983 and has since returned as the Head Coach of the Bluebirds.
Willie played his college ball at Northern Kentucky University under Coach Mike Beitzel where he is one of NKU's all-time leading scorers.
Previous to coming to Brossart, Coach Schlarman served as assistant coach at Silver Grove in 1993-94, Freshmen coach at Dayton, where he won the Class "A" Regional Freshmen Tournament in 1994-95, JV Coach at Highlands where his Bluebirds were 9th Region JV Champs in 1995-96 and narrowly missed repeating in 96-97 finishing second only to CovCath.
Willie Schlarman was top assistant to Coach John Messmer in 1997 when the Highlands varsity advanced to the State Championship game vs Louisville Eastern. He cites working with great kids and good people as the most positive aspect of his coaching tenure at Bishop Brossart High School.
COACH SCHLARMAN COACHED TEAMS
28-7 record
38th District Champs
10th Region Finalists
20-13 record
38th District Champs
10th Region Finalists
STATE TOURNAMENT ELITE EIGHT
16-15 record
38th District Runner-Up
10th Region Semi-Finalist
ALL 'A' STATE
15-15 record
38th District Runner-Up
10th Region Tournament
23-8 record
38th District Champs
10th Region Semi-Finalists
10th Region All "A" Champs
ALL 'A' STATE
23-6 record
10th Region All "A" Champs
ALL 'A' STATE RUNNER-UP