Tyler Smith Nets Brossart's Lone Goal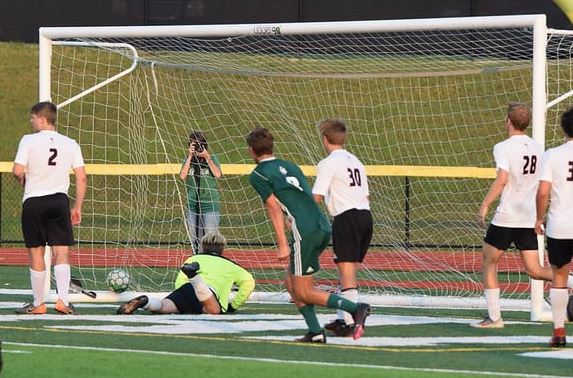 Our Brossart SoccerStangs took on Holy Cross Friday night as a part of 2021 Northern Kentucky Soccerama. In a hotly contested pre-season "friendly" we were edged 2-1, as the Indians benefited by a controversial foul in the box at the 56 minute of the contest which proved to be the game-winner.
The Indians struck early, only to have the Mustangs score on a cross by Tyler Smith, evening the score at 1s, which was the score at intermission. While soccer is not normally a game of inches, on two occasions we had two high-percentage shots carom off of a sidebar and go for naught.
As a casual observer, I thought the Mustangs got superb efforts from Ty Schaeffer, Tyler Twehues, Ryan Ebert, Logan Woosley and the keeper Lucas Steffen who made several nice saves.
In the prelim the Ohio County varsity Eagles defeated our Mustangs JVs 2-0 in a contentious match. The Eagles, from the Owensboro, Ky., area were a long way from home.
Six more Soccerama bouts are slated to take place Saturday. Football takes center stage at the MAC next Friday night at 6:30pm with our annual Green-White night.