Ally Smith, Honorable Mention among Northern Kentucky Girls Soccer Players
Brossart Senior Ty Schaeffer was named among the top boys soccer players in Northern Kentucky in a pre-season prospectus issued by James Weber of the Cincinnati Enquirer earlier this week. Schaeffer was named second team all-region on defense a year ago, helping the Mustangs to a 9-7 record and the 37th District championship. The list also included Evan Ratcliff who I show as having graduated last spring.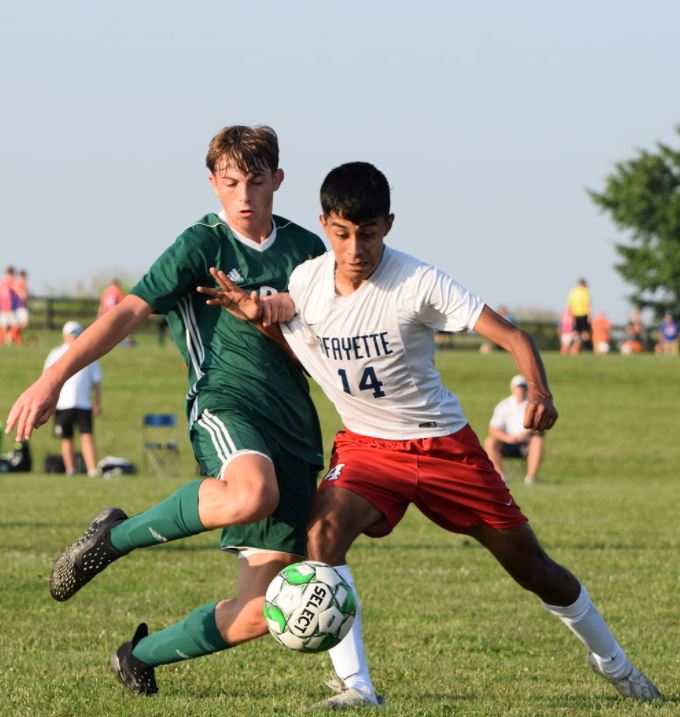 Schaeffer will be joined by six other seniors – James Ampfer, Andrew Beck, Zach Holtz, David Prather and Tyler Twehues. The roster also includes five juniors and six sophomores. Brossart previews in tonight's Soccerama at 7:45pm at the MAC, taking on Holy Cross, and will open their regular season with a series of away games beginning on August 10th at Beechwood. They will grace the friendly confines of the MAC on Wednesday, August 26th, when they host the Cooper Jaguars, currently considered the second best team in Northern Kentucky behind the Ryle Raiders. Our Mustangs gained valuable experience last weekend while competing in the Bluegrass Games in Lexington, being contentious against all three highly regarded opponents – Lexington LaFayette, Louisville Trinity, and Marshall County.
Ally Smith was tabbed Honorable Mention among Northern Kentucky Girls' Soccer players. Our girls are coming off of an 8-8-1 season. Despite losing six seniors from that team, there is no shortage of senior experience returning for the 2021 campaign. Jeanna Alwell, Lia Callahan, Lydia Haubner, Olivia Keller, Kendall Kramer, Lauren Macht, Brooklyn Meyer, Sophie Neufelder, Sydney Oergel, Bella Ross, and Grace Schroeder will all join Senior Ally Smith for the season ahead.
The Lady Soccer Stangs open regular season play Monday, August 9th at Simon Kenton.