VARSITY HEAD COACH BEN FRANZEN
On May 4, 2022, Campbell County native Ben Franzen, a 2009 graduate of Campbell County High School, has been named the head coach of the Brossart Mustangs. Coach Franzen has served most recently as Varsity Assistant and the JV Coach at Covington Catholic High School under Coach Scott Ruthsatz, one of the area's premiere coaches. He is also the former Freshman Coach at Highlands.
Franzen spent six years as an assistant coach at Covington Catholic High School, which won four 9th Region championships during that time. Franzen also served as the junior varsity head coach at CovCath and guided the Colonels to back-to-back perfect seasons (47-0 overall record), including two consecutive Northern Kentucky regional tournament championships.
In 2017-18, the Colonels junior varsity team posted a 23-0 record en route to the regional title. That preceded the CovCath varsity team's march to the KHSAA state championship in Lexington.
A year earlier, Franzen's junior varsity squad finished 24-0 and also captured the regional crown.
"I'm excited to have this opportunity to contribute in the growth of faith and hard work for the young men at Bishop Brossart," Franzen said. "Strengthening these two aspects in their lives will lead to success both on and off the court."
Prior to arriving at CovCath, Franzen spent three years as the freshmen head coach at Highlands High School. He guided the Highlands to the regional championship game in 2014-15.
In addition, Franzen has worked several summer camps for Michigan State University head coach Tom Izzo in East Lansing, Mich.
Franzen is a 2009 graduate of Campbell County High School, where he lettered in both basketball and baseball for the Camels. He earned his B.A. in Elementary Education from Northern Kentucky University in 2013.
Franzen teaches the 5th grade at Crossroads Elementary School in Cold Spring, Ky. He and his wife, Melody, and their two children are members of the St. Joe's Cold Spring Parish.
JUNIOR VARSITY HEAD COACH JOHN RIDDER
John ('16 grad) played basketball here at BBHS for four years. He won the "Mitch Orth Mr. Hustle Award", which is given to the player who demonstrates true grit and hustle, qualities he hops to impart on our team. He got into coaching to make an impact, and is happy to be coaching at his Alma Mater. His goal is to use his knowledge to develop our players into better athletes, and more importantly, guide them toward being better men.  John spent the 2021-22 season coaching 8th graders and prepared them for high school ranks.
Coach Ridder is a 2020 University of Kentucky grad, with Bachelor Degrees in both Marketing and Business Management. He is presently enrolled at the University of the Cumberlands, where he is seeking a Masters Degree in Education and hopes to become a Business teacher. John is responsible for much of our presence on Social Media and high-quality graphics. He is a rabid UK and Cincinnati Reds fan & John is a member of St. Mary Parish here in Alexandria.
Freshman Head Coach Curtis Bezold
Curtis Bezold ('99 grad) played alongside of Nathan Seiter on our co-winningest team ever (28-7) that played in the 10th Region Championship game, losing narrowly to Fleming County.
Curt is the 20th leading career scorer in Brossart Basketball history with 992 points. Only an illness during the Mason County Invitational Tournament as a senior, prevented him from being a member of our 1,000 Points Club.
Curt is in his fourth season as our Freshman Coach. His 2019-20 Mustangs were 11-11 with wins over Covington Catholic, NCC, Holmes and Dixie Heights. 
Previous to becoming our Freshman coach, Curtis coached the Sts Peter and Paul Cardinals where his teams were the 7th and the 8th Grade Diocesan Champions. He is married to his wife Tina, and works for Duke Energy in the Gas department.
Varsity Assistant Coach Derrick McBride
Coach McBride brings extensive basketball coaching experience to our program, having served previously at Highlands, Beechwood, and South Dearborn, Indiana.
Derriek is a member of St. Mary Parish and resides here in Alexandra.  He presently serves as the ESports coach at Thomas More University
We welcome Coach McBride to our staff where he will serve as a varsity assistant.
Graduate Assistant Coach Steven Verst
Steven Verst ('21 grad) burst upon the Brossart basketball scene back in 2010, where as a second grader, he began winning individual "Camp Champ" titles, and earned a total of 18 of them by the time he became a Freshman Mustang.
Verst has left his mark on the program by setting records for Top Free-Throw Percentage in a Season – 83.5%, and Best Free-Throw Average in a Career at 81.4%. Stephen set a school standard for best 3-Point Percentage in a game by hitting 6 of 8 against Frankfort in the All "A" State at EKU as a junior in January of 2020.  Included in his 83.5% Free-Throw record for a season is a string of 29 consecutive successful charity tosses.
Freshman Asst Coach Alex Trentman
Alex Trentman ('14 grad) is in his third season serving as our Freshman Assistant Coach.
Trentman played three years (plus a redshirt season) at Christian Brothers University (Memphis, Tn, DivII). He started 24 games in 2016-17 scoring 24 points vs Alabama- Huntsville and 20 points in an exhibition game vs Memphis State. He was a starter throughout 2017-18, scoring 195 Points and grabbing 184 Rebounds for the Buccaneers who were 21-9. 
Alex is a member of the Brossart 1,000 Points Club, scoring 1,137 career points, 13th best in the history of our program. He presently holds four school records. His teams won four 10th Region "A" titles and were 37th District Champs in 2013. Alex was a 2020 first-ballot inductee into the 10th Region Hall of Fame.
Staff Assistant Dave Schabell
Schabs is a fixture around the Mustang basketball program.
During his tenure, the '65 Brossart grad has served as head coach to eleven Mustang freshmen teams. He also served a five year stint as Varsity Girls Head Coach from 1986 through 1991 where his Lady Stangs compiled a 99-45 record, including a 26-6 campaign in 1986-87 which ended in the 9th Region Semi-Finals, after winning the school's very first District Championship. Dave has served under eight Mustang head coaches dating back to Jon Quatman who hired him in 1978.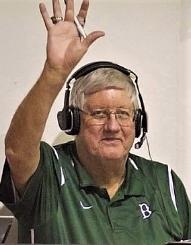 He is presently the program's business manager in charge of publicity, the BMustangs.com  website, Fund-Raising, Anchors the Meridix Webcast Team, edits the Program's Media Guide and serves as Traveling Secretary when the Mustangs are on the road.  Schabell was elected to the 10th Region Hall of Fame in the spring of 2009; was inducted into the Northern Kentucky Athletic Director's Association Hall of Fame in October, 2009; the Northern Kentucky Sports Hall of Fame in November of 2009; and was inducted into the Brossart High School Athletics Hall of Fame in March of 2016. In 2019 Dave was elected to the Northern Kentucky Coaches Association's Court of Honor. In March of 2022, he was inducted into the NKBBCA Court of Distinction. He turns 75 in June of 2022, but is still going strong.
In 2022, The Munninghoff Family bestowed the honor of naming the drive into the MAC after Schabell for his countless years of service to Bishop Brossart and this community.
STAFF ASSISTANT ERNIE LIGGETT
Ernie Liggett comes to Brossart through his relationship as assistant coach to Ben Franzen during their days Together at Highlands.  Ernie is best known as the premiere official in Northern Kentucky for over 28 years.  During that time he worked in 12 KHSAA "Sweet 16" Boys and Girls State Tournaments, officiating the championship game on 5 occasions. 
Ernie officiated 22 All "A" State Tournaments and appeared in 20 "A" State Championship games.  He has trained young aspirant officials for 15 years.  To this day, Ernie mentors underprivileged children, and runs a    basketball league named in his honor. 
He is a Member of Holy Spirit Parish in Newport.
Jeff Miller, the husband of recently retired school secretary Katie Miller, has been a key member of the staff for nearly 20 years. Jeff coordinates our student stats personnel, transitions our stats from the game film to the KHSAA site, and provides the coaching and broadcast staff with up-to-the-game current player, and team statistics.
Jeff and Katie are parents of two children, Danny, who played on the Campbell County Regional Championship team of 2001, and Julie. Danny resides in Louisville, while Julie lives in Boulder, Colorado. The Millers have five grandkids.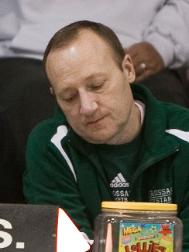 Looking for former coaches?
We've had some good ones over the years.