Our Brossart Basketball Family, Joins the Schlarman Family, in Mourning the Passing Of Bill "Big Bill" Schlarman, Friend, Former Assistant Coach and Former Head Coach Willie Schlarman's Dad
The really tough, sad news that Bill Schlarman had passed away swept the Brossart basketball community on Saturday morning. This has been a tough few months for the Schlarmans, who lost Kentucky Assistant Football Coach John Schlarman late last fall.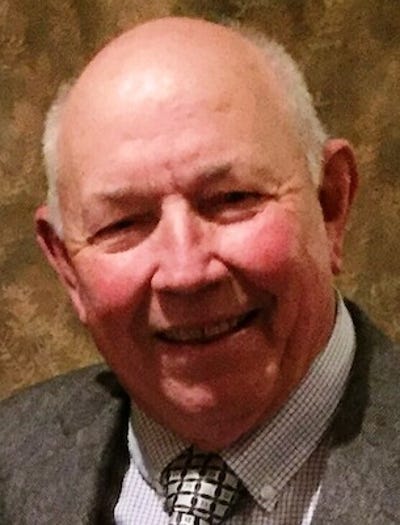 Bill Schlarman is father of Willie Schlarman, who served as our head coach from 1997 though 2004, during which time our Mustangs won four district championships, were 10th Region Runners-up to Fleming County in 1998, and won the 10th Region championship in 2000 and defeated Graves County in Rupp Arena in the "Sweet Sixteen" State Tournament.
Bill served as an assistant coach on Willie's staff along with myself, Bill Klopp, Bob Rowe and Jamie Schoulties.
I have known Bill Schlarman for much of his life. He coached Willie as a youngster playing in our KofC Grade school basketball league. I remember Bill telling me early one season that he thought that the league championship was between his Fort Thomas Florist team and my Sts. Peter and Paul Cardinals.
He was being kind. What he should have said was that he thought it was his to win, as we never came within double-figures of Bill's talented team. Bill also made one of our Canadian fishing trips with us in the early 2000's. To this day we often make an odd cast out of the other side of the boat "for Bill Schlarman."
Because of the different programs John and Willie were associated with we called Bill "The Chameleon" because of all of the different colored shirts and caps that he wore. John coached high school football at Bourbon County, Campbell County and Newport, and Troy and UK in college.
A devoted family man, he and wife Judy, raised three daughters Tammy, Cindy, and Julie, along with Willie and John. Each of them were superb athletes and played sports in high school and college. Bill was also a horse player, a trait he passed on to his two sons, and it was not unusual to bump into Bill at a track locally or as far away as Florida. He lived a good and fulfilled life, and his smile and soft voice will be missed, but will remain with us forever.