Football Mustangs Observe First Permitted Practice With Contact in Pads At Midnight, Sunday Morning at the MAC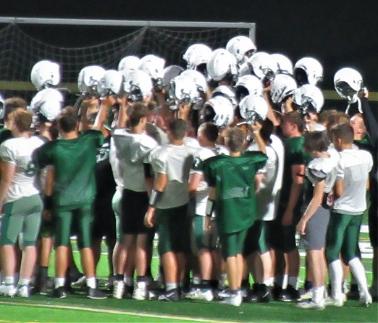 Our Brossart football Mustangs partook in what they hope will become an annual tradition, breaking out the pads, and practicing with contact beginning at 12:01 am on Sunday morning at the MAC.
To be known as Mustang Madness at the MAC, the sweet sound of pad on pad permeated the rather heavy, moist air at that time of the morning and for the next hour Coach Paul Wiggins put his team through their newly allowable paces.
A mixture of former players, parents and fans assembled to take in the activities.
The Mustangs will publicly conduct our annual Green-White scrimmage Friday at 6:30pm.